As part of the AOSP project (Android Open Source Project) Google has released the final version of Android 12 "Snow Cone".
This means that Pixel smartphones will be the first to receive the update to the new major release with the various manufacturers following in the coming weeks or months, at least for the flagship models.
In another article we saw which manufacturers update Android more frequently and ensure multi-year support.
With Android 12, Google has introduced a new visual design called Material You which radically modifies the graphical interface of the operating system.
It focuses on customization, colors, animations that become more fluid at the level of the entire operating system. The notification panel, quick settings, the menu that appears by pressing the power button have all been revised.
Material You also includes a function that selects the most suitable theme based on colors: it detects the dominant color combination in the background of the home screen and automatically applies the most suitable colors to notifications, volume controls, the lock screen, to widgets and so on.
The dynamic theme based on your chosen background color is currently exclusive to Pixel devices but is expected to be available for more devices when Android 12.1 is released, along with some improvements for foldable devices.
According to Google, Android 12 is more efficient than its predecessor, helping to ensure longer battery life.
Privacy and Android app permissions
As we know, one of the most delicate aspects when it comes to Android security is the management of app permissions.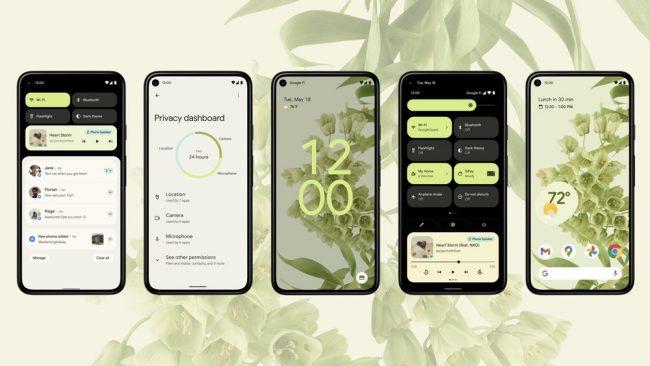 Android 12 introduces a new feature called Privacy Dashboard: it allows you to control which apps access your microphone, camera and location data.
A timeline helps pinpoint when apps access data and how often they do so.
Google has added visual indicators that appear in the upper right of the display to alert you when an app is using your microphone, camera or geographic location. There are also a couple of new widgets that let you quickly check app permissions. From now on the operating system also shows a notification when an app accesses the contents of the clipboard which can often act as a container for personal information and sensitive data.
Updating to Android 12 will allow you to decide whether to grant specific apps only access to your approximate geographic location in order to better protect your privacy.
Interface and digital assistant
The Quick settings panel, containing Android's quick settings (activated with a swipe from top to bottom), hosts some interesting new features: it is possible to control access to the microphone and camera directly from here; it also offers shortcuts to Google Pay and Google Home as well as a mechanism to control TV from your phone (Google TV) by turning it into a remote control.
With a quick tap or by quickly tapping the back of the smartphone twice consecutively, you can bring up Google Assistant.
Speaking of the Google digital assistant, Assistant now supports reminders and to-do tasks; it also integrates a new "driving mode" that replaces the Android Auto app.
Using the assistant, NFC and UWB chips on supported vehicles it becomes possible to open the car doors with a voice command.
With Android 12 it is then possible to select the SIM to use while making calls via Android Auto when using dual SIM configurations.
The Mountain View company has also improved the one-handed mode: it allows easier access to the information contained in the upper part of the display.
Android 12 is the first version of the operating system to support full-page screenshots or scrolling screenshots.
After activating the hotkeys to take a screenshot, you can capture unlimited vertical screenshots.
The new operating system also introduces an AppSearch option integrated into the Launcher, to help users quickly find the applications installed on the mobile device.
Android 12 also introduces some useful accessibility features: users with speech or motor disabilities can make use of facial gestures to control the device. The feature, which is part of the Project Activate app, detects and interprets motion when the user turns their head, moves their eyes, etc. and then performs set actions.
The Lookout app was designed to assist users with low vision, it has a new handwriting recognition feature capable of reading handwritten and on-screen text aloud.
Google has organized its annual Android Dev Summit for October 27-28: Android 12.1 will probably already be discussed on that occasion.